GOOD
BAD
–
Protein
Carbohydrates
Ironman Protein Bar Caramel
Dark chocolate with caramel.
No bad taste – strong chocolate flavour.
40g bar
Taste: 75/100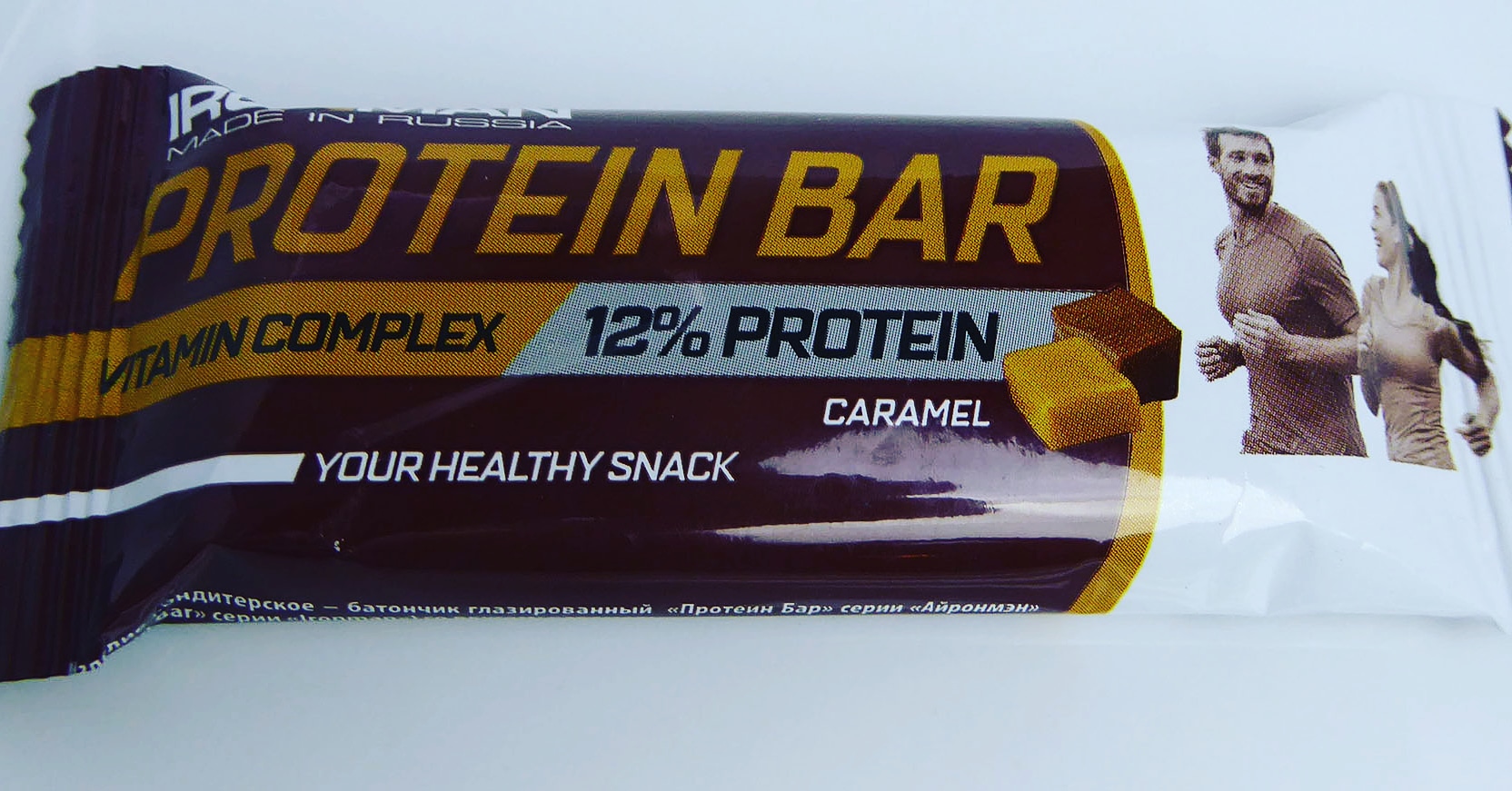 Made in Russia
Shelf life when purchase: 10 months
Supplement Facts per 100g
Energy 1.680 kJ, 400 kcal
Total Fat 13,75g (Saturated Fatty Acids n/a)
Carbohydrates 52,5g
Sugar n/a
Protein 12,5g
Supplement Facts per 40g
Energy 672 kJ, 160 kcal
Total Fat 5,5g (Saturated Fatty Acids n/a)
Carbohydrates 21g
Sugar n/a
Protein 5g
PROTEIN BAR VITAMIN COMPLEX
12% protein
Caramel
Ingredients: glucose syrup, confectionery coating (lauric cocoa butter substitute, sugar, cocoa powder, lecithin (emulsifier), flavor), coconut flakes, maltodextrin, sugar, chocolate crumbs (sugar, non-tempered non-lauric type of cocoa butter substitute (hydrogenated palm fraction, antioxidant E 306)), cocoa powder, emulsifiers (soy lecithin, E 476), flavor), soy protein isolate, milk protein concentrate, water, whey protein concentrate, glycerol (water-retaining agent), cocoa powder, vitamin premix (vitamin C, niacin, vitamin E, pantothenic acid, vitamin B6, vitamin B1, vitamin B2, folic acid, biotin, vitamin B12, flavor, potassium sorbate (preserving agent).
Nutritional value of the protein bar (40 g): Energy value per 1 bar 672 kJ/160 kcal. protein – 5 g, fat – 5,5 g, carbohydrates – 21 g, fibers – 2,4 g.